Viscontiís restaurants bring Old World traditions of cured meats to wine travelers and diners in North Central Washington
Carr is a connoisseur of fine wines and longtime, stalwart supporter of the local wine industry. His restaurants have won multiple awards for their deep Washington wine list, and he has been involved as a judge every year at the North Central Washington Wine Awards.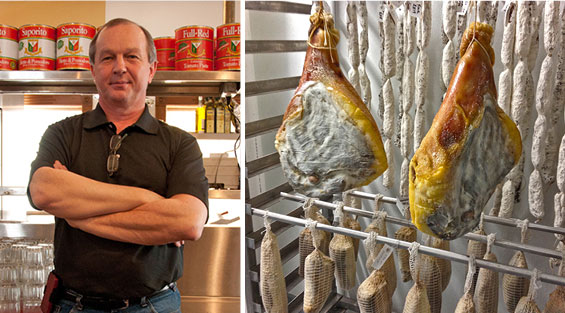 Daniel Carr is co-owner and executive chef of Viscontiís Restaurant Group in North Central Washington; Prosciutto hams and other salumi in Viscontiís aging room
Chef Daniel Carr: In 2013, the Washington Wine Commission honored us as Restaurant of the Year. And this past March, I was invited by the Washington Association of Wine Grape Growers to be their honorary guest chef at their Tri-Cities annual convention. We prepared a five-course dinner with capicola, prepared and sliced like osso bucco, served with risotto. That was one of the highlights of my career.